Nigerian banking stocks headed for the biggest drop in 3 1/2 years as investors showed their displeasure at the lack of clarity from policymakers since they flagged a change in foreign-exchange policy more than a week ago.
The Nigerian Stock Exchange Banking 10 Index fell 7.6 percent as of 1:31 p.m. in Lagos, the biggest retreat since November 2012 on a closing basis, extending a 6.6 percent slump Tuesday. Guaranty Trust Bank Plc, the country's biggest lender by market value, declined 9.6 percent, while Zenith Bank Plc dropped 8.9 percent. United Bank for Africa Plc retreated 9.5 percent.
Central Bank of Nigeria Governor Godwin Emefiele said May 24 the bank would introduce a flexible exchange-rate regime to boost investments after a scarcity of dollars contributed to inflation reaching an almost six-year high of 13.7 percent. President Muhammadu Buhari, who has opposed weakening the currency since coming to power last year, said in a speech five days later he would keep a close watch on how recent measures affected the naira and the economy, while also saying devaluation in the past had harmed the country.
"The market may have been shocked by the body language of the president from his weekend broadcast when he mentioned that he was encouraging the CBN to initiate a flexible foreign exchange market regime, but also said he was against devaluation,'' Pabina Yinkere, an equity analyst at Vetiva Capital Management Ltd., said by phone. "There is speculation the devaluation might not happen.''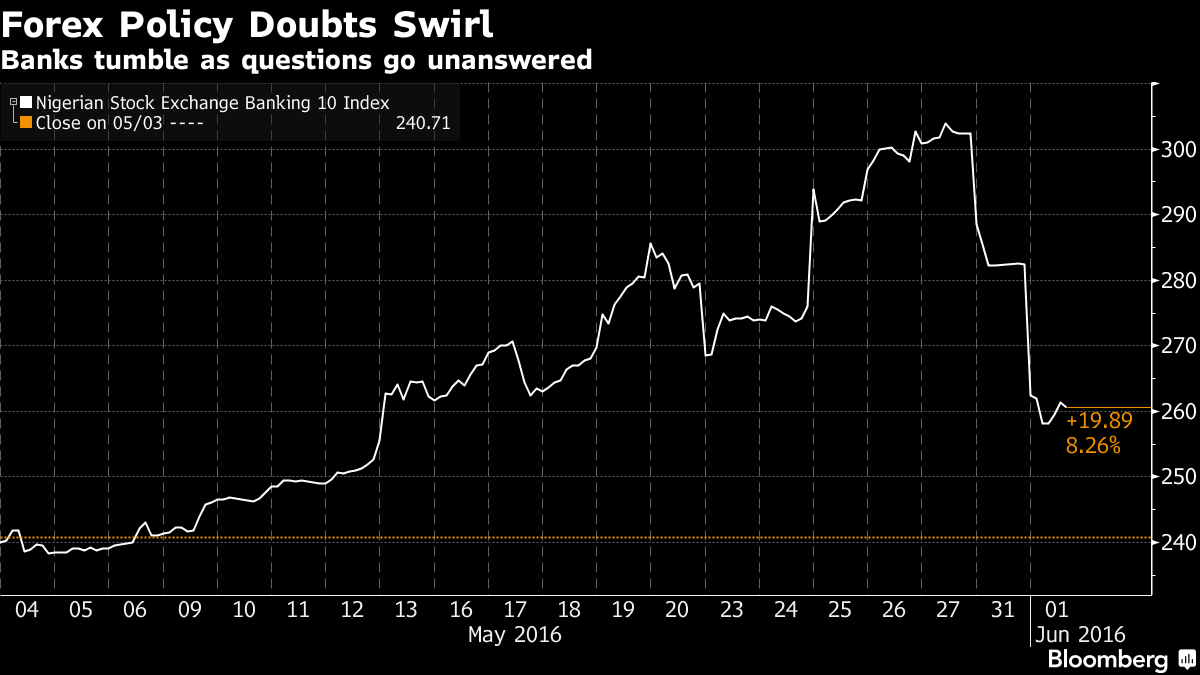 Source:Bloomberg